I attended a rare screening of The Luck of Ginger Coffey (Canada, 1964) last Saturday, as part of the Cine Gael Irish Film series. It stars Robert Shaw, who was just beginning to be something (he shot this a year after he starred as "Grant" in From Russia with Love) and was directed by Irvin Kershner, who went on to an illustrious career shooting little-known space romps such as The Empire Strikes Back.
In brief, The Luck of Ginger Coffey (Wikipedia) is the story of an ambitious but somewhat misguided Irish immigrant to Montreal in the early 1960s. Ginger Coffey is a master of well-meaning but destructive lies and misdirections, as he wages a tug-of-war between telling his wife and teenage daughter that yes, the Montreal experiment is over and we'll soon be back in Dublin, while simultaneously chasing down his next big opportunity. The fact that he cannot afford return passage further complicates things and makes his situation even more desperate.
The film is based on a Brian Moore novel of the same title (Moore also penned the screenplay). I read the novel a couple of years after I moved to Montreal, and I found a lot of myself in that character, as I too was an outsider with great but unfulfilled ambitions, and was at a loss as to how to go on.
Ginger is almost delusional in his desperation to find legitimate and meaningful work that provides good appearances. When he hears of an "assistant to the sales manager" position all he hears is "manager." When told about a proofreading job, he says "so it's like an editor then," to which he is told "it's sort of a sub-editor." By the end of the conversation Coffey is convinced the "sub-editor" job is "only temporary" (which is essentially his catch-phrase for the entire film) and he proceeds to tell his wife that he's been hired as an editor.
This is a very Montreal film in that the city does not stand in for elsewhere. It is set, and filmed over a Montreal winter, with plenty of cold and wet black-and-white exterior shots from various places around the city. On such occasions it is fun to location-check those shots; some were easy to identify, and others less so.
After the screening I took advantage of the tools of our modern times to do a bit of research, and I've identified some of the key locations, as indicated below.
The Coffey's first apartment
This is on Drummond, above Sherbrooke. The old redstones are gone now, but the large apartment building is still there.
Tight view:

Wider view:

Google Street View:

Ginger's apartment at 1221 rue Plessis
This one was easy, as Ginger gave his address at his arraignment for indecent exposure (see the film for details on that). He said "1221 Plessis Street," and indeed that is the address of the location used. It's between Ste-Catherine E. and René-Lévesque.
Stairs view:

Balcony view: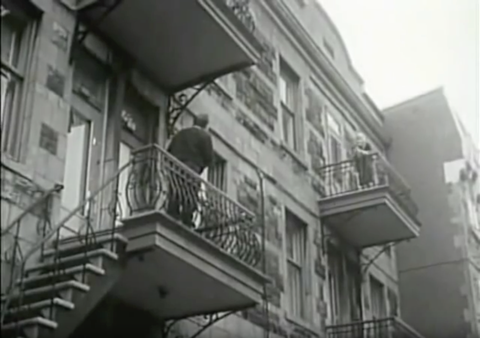 Google Street View:

Vera Coffey's Apartment
This is on Square Saint-Louis. Specifically, the building on the north side of Laval and Prince-Arthur. The walking route they took to arrive there makes no sense; they walked through the west side of Square Saint-Louis, in a north-east direction, then turned and crossed Ave. Laval near the intersection at rue du Square Saint-Louis (north side), then doubled-back on Laval. But that's cinema for you.
High view of Square Saint-Louis:

Crossing Laval:

Google Street View:

Entrance to the apartment:

Wide view:

Google Street View:

Newspaper Presses
A few times we see Ginger step outside of his workplace at the fictional Montreal Tribune and pause for a moment against a bank of windows where you see newspaper presses chugging away. I'm pretty sure this is the old Gazette building on Saint-Antoine near Bleury.
In the first screenshot below, you see Ginger rounding a corner with a large round column barely visible except for the light reflection. The next shot is him with his back to the presses; the large column is just out-of-frame to his left. That building is now a hotel, but I recall seeing the press machines behind those windows back in the 1980s. You can see the column in Google Street View.
The column:

The presses:

Google Street View:

Scene of the Crime
Ginger's fateful call of nature occurred while he was waiting for a bus in front of the Windsor Hotel. He went around the corner onto rue Cypress to find a darker and quieter spot to relieve himself. Specifically, he seems to have done the deed in the doorway of what is now 1100 rue Cypress.
Side of the Windsor Hotel:

Google Street View:

Palais de Justice
This one shouldn't be hard, but for some reason a lot of Montrealers don't recognize the Palais du Justice on rue Notre-Dame. Perhaps it's because it's set back from the street a bit so we don't notice it, or maybe it is overshadowed by the magnificent Ernest Cormier building across the street that houses the Appeals Court but for me will always be the place where Jane Fonda had a moment in Agnes of God. But there it is, unchanged, in all its neoclassical glory.
Tight view:

Google Street View:

You can watch The Luck of Ginger Coffey yourself on YouTube, although the highest resolution is 480p.