Loyal readers remember Spiff, the famous cat who coached me through my first five years of blogging before he finally expired in 2005 at the age of 14. Well I'm pleased to announce that Spiff lives on in Peghole's iPhone App, Clean My Screen!
Mark (of Peghole) was looking for some images to use in the small photo library that comes with the app, and I provided some — including two shots of the famous Spiff. One of them is a bit of a shocker; to avoid having two orange cat photos in the library, Mark conjured up Spiff's grey-furred alter-ego, Smiff.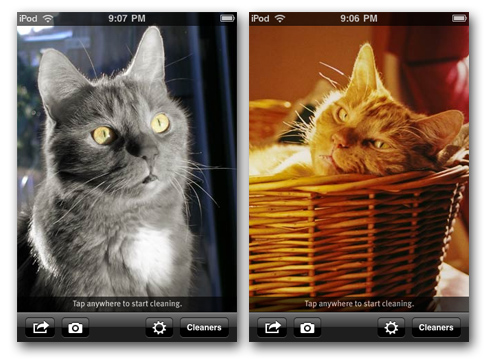 Smiff on the left, Spiff on the right. Stand up, sit down, fight fight fight!
As to the purpose of Clean My Screen, well, check the FAQ.
In the meantime, I have a few promotion codes for a free copy of Clean My Screen. If you want one, send me an email up until April 28, 2010 (blork-at-blork-dot-org). Note that the promo codes can only be used in the U.S. iTunes store.