We went to Vermont over the Thanksgiving weekend to visit friends and to get in a bit of country living. On Saturday evening we drove over to Hartland, VT, for the Unitarian Church's "famous roast beef dinner."
The fame is deserved – the meal was old fashioned and delicious. We sat at folding tables set for ten and were served large bowls of mashed potatoes, green beans, and cole slaw, along with pitchers of gravy and heaping platters of roast beef that would put Magnan's to shame. Afterwards there was an extensive list of pies to choose from, all home made.
It was a delightful meal in what was, for us, an unusual location. The people around us were friendly in that pleasant, if slightly reserved, way of country and small town folk. That is, with the exception of the people who sat at our table (not visible in the photo below) who were more like a family of trolls. They fell on the bowls of food like boarders at the table of a stingy rooming house. Fortunately it was an "all you can eat" deal, so the bowls were eventually refilled. Their crude behaviour didn't bother us though, as we all knew it would give us something to laugh about later.
After the church dinner we went for a drive through the dark and rainy back roads of Vermont and then over into New Hampshire to the town of Hanover. I'm not sure how or why, but we ended up in one of the arts buildings on the campus of the august and highly civilized Dartmouth College. There was a dance performance going on downstairs, and the art gallery was still open. Plus there were many workshops and other fascinating rooms to look at.
But first we had to dry off, dripping wet as we were after dashing from the parking lot through the prodigious downpour. We stood in a large open room filled with wide panoramic windows, sculptural fixtures, an enormous modern fireplace, and various works of art on the walls, including expensively framed pieces along with more modest efforts that were tacked up by students as a temporary exhibit.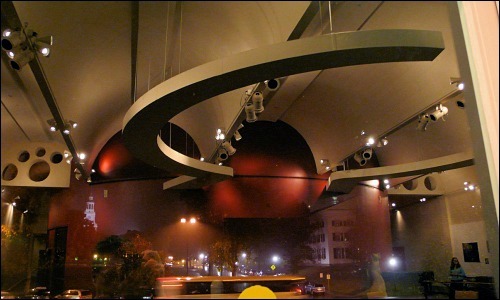 The view out the window was extraordinary as sheets of rain pounded the pavement in the foggy light of the street lamps while the interior of the room reflected off the glass. I stood there, still dripping from the deluge, watching spider webs struggle to survive the rain and the wind. I pondered the fragility of things.
A few minutes later we were on the other side of the room, near some of the paintings, discussing the weather. At some point I realized I was leaning slightly against the wall, which I thought was probably not a good idea given how wet my jacket still was. As I moved away I heard the slight rustle of paper, and turned to see that I had, in fact, been leaning on a painting; a mixed media abstract thing of pastels and other materials.
I also saw that the pigment bled off the paper and onto the wall, which I though was rather creative until I noticed that the bleed was still wet. Uh-oh. As calmly as I could I said to my friend "Um, is there a bit of paint on my back?" to which he replied "Why yes, you have a perfect imprint of that painting on your jacket."
Fortunately he was exaggerating, but just barely. Realizing I had just pulled off the ultimate Mr. Bean move, I calmly took off my jacket, folded it over my arm, and rather pointedly suggested to the others that now would be a good time to take a closer look at that studio we saw on the way in, that one way, way over at the other end of the building.