It's a sad day for lovers of canned tomatoes. While fresh tomatoes are obviously a superior choice, even for making sauces, we of the wintery climes cannot deny the year-round convenience of good quality canned plum tomatoes when it comes time to make sauce for pizza or pasta.
This is particularly true if you, like me, follow the school of tomato sauce thought that believes "the simpler the better." When the sauce contains little more than the tomatoes themselves, and cooks for about as much time as it takes to make a side salad, then the quality and flavor of the canned tomatoes is of paramount importance.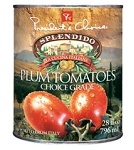 For the past few years, my favorite canned tomatoes have been President's Choice "Splendido" Italian plum tomatoes. I find them to be, in a word, superb. They are 99% as good as San Marzano tomatoes, which cost four dollars per 28 ounce can, yet the Splendidos go for only $1.39. All other canned tomatoes I have tried pale by comparison, with the exception of Pastene whole plum tomatoes (generally about $1.99 a can), which are almost as good as the Splendidos. Almost.
I haven't seen Splendido plum tomatoes on the supermarket shelves for a month or so. Worried that they had been discontinued, I called the President's Choice consumer hotline to inquire. Sadly, they confirmed that the product has, indeed, been discontinued. The person I spoke with was not able to say why, but she told me it is not uncommon for imported products to get dropped if shipping becomes too complicated or expensive, or if there is a problem with the supplier. She said it might also be due to low demand, but given the outstanding quality and very low price, how could that be?
I registered a complaint, and she told me I was not the first to do so. She also said that sometimes, according to consumer demand, they bring discontinued products back.
So here is my plea: if you live in Canada, please call the President's Choice consumer hotline (1-888-495-5111, M-F, 8:30am – 4:30pm, EST) and register a complaint about the discontinuation of Splendido plum tomatoes (product UPC code: 6038370333).
As a "thank you," I present below two recipes for basic tomato sauce. The first, which I consider to be "complicated" because it takes about 40 minutes and uses a sofrito, is from "Simply Recipes." I highly recommend it as the sofrito provides a nice texture and depth of flavor. It is virtually identical to my own "Blork's Basic Tomato Sauce #2." Here is the "Simply Recipes" version.
The second is my basic recipe #1, inspired by a recipe I found in Byron Ayanoglu's excellent book The New Vegetarian Gourmet. It does not use a sofrito, but achieves its depth through the use of sun-dried tomatoes and a bit of balsamic vinegar. This is the recipe I use most of the time (sometimes I skip the sun-dried tomatoes) because it is fast and easy and emphasizes the fresh taste of the tomatoes. Needless to say, for either recipe you should use the best quality whole Italian plum tomatoes.
I recommend you make a double or even triple batch. It freezes well and stays fresh in the fridge (use a glass jar) for up to a week. I use it as-is, or as a base for variations such as lasagna sauce, pizza sauce (with the addition of oregano) or whatever comes to mind. For example, warm up some already-made sauce and stir in a bit of finely grated parmesan cheese and some 15% cream to make a nice rosé sauce.
Blork's Basic Tomato Sauce #1

Ingredients:
28 ounce can of excellent quality whole Italian plum tomatoes (including juices).
4 or 5 sundried tomatoes, lightly reconstituted and chopped
1 tbsp tomato paste
3 or 4 cloves of garlic, smashed and chopped
1/4 tsp. dried chili flakes
2 tsp. dried basil, or 1/4 cup (or more) of chopped fresh basil
1 tsp balsamic vinegar
2 or 3 tbsp olive oil
Salt and pepper
Method:
Dump the canned tomatoes into a large bowl and use your bare hands (washed) to crush them.
In a wide, heavy bottomed pot big enough to hold everything and still have room for bubbling and stirring, heat half of the olive oil. Add the garlic and stir quickly for 30 seconds (it should sizzle, but don't let it brown).
Add the chili flakes and continue stirring for 30 seconds.
Add the crushed tomatoes and stir vigorously for a minute.
Add the chopped sundried tomatoes, and if using dried basil, add it now.
Lower the heat a bit and let the tomatoes bubble for about 15 minutes, stirring every few minutes.
Add the tomato paste (if the sauce is quite dry you might want to add a couple of tablespoons of water).
If using fresh basil, add it now. Also add the balsamic vinegar and stir well.
Taste for seasoning. It likely won't need much salt (if any), but a bit of freshly ground black pepper is nice.
Cook for another five minutes. Turn off the heat and drizzle in the rest of the olive oil. Stir it up and voila! Your sauce is ready.
Either of these sauces can be used as-is (I recommend a good "sauce catcher" pasta such as rotini or fusilli), or you can stir in some browned meatballs and serve with spaghetti. Alternatively, you can use them as the base for more elaborate sauces (such as the previously mentioned rosé sauce.)
Now call that number, and help me get my Splendidos back!