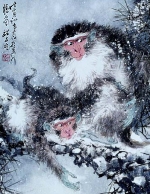 This is the last of the 12 Monkeys! The theme is "give me a year." What would you do if you had a free year, all to yourself, to dedicate to whatever you wanted? Assume money was not a problem — you've just received a $60,000 Monkey Grant.
Would you spend your year travelling? Reinventing yourself? Would you go back to school to reorient your career? Would you try to see every movie you ever wanted to see? Forget about crazy things like flying to the moon or whatever — think about what you would really do, if you could spend a year doing something you really want to do.
Remember, you have to dedicate yourself to something. What would it be? (Note: monkeys en français can be found over here.)
(Here's mine. Oddly, it involves neither travel nor writing — the two things that spring to mind whenever I wish I had more free time…)
Don't tell anyone, but lately I've been thinking about changing my career. I've been a technical writer since about 1991, and I think I'm pretty good at it. But I've done about all I care to do in this line of work, which leaves me at a bit of an existential loss when I trudge into work each morning.
But what else could I do? Any transition would involve a huge step backwards in terms of status and salary while I established myself and acquired the necessary new skills. Starting over like that scares me — what if I made a big investment in time and money (in term of opportunity cost) and then found myself no better off, or worse, than I am now?
On the other hand, if I had a "free year" in which to do some thinking, studying, and to work a poorly-paid job or two (perhaps as an intern), then maybe I'd find the courage to make such a big move.
Perhaps more important than my career is my health. For a number of not-very-good reasons I've let myself slip over the past 18 months. Part of this decline is because going to the gym is more inconvenient than ever — an issue made larger than itself because of a problem with my foot and another problem with my shoulder. As a result, my level of physical activity is at an all-time low, and my level of physical expansion is correspondingly at an all time high.
Wouldn't it be great to spend a whole year dedicated to sports and physical activity? Imagine spending each day in a healthy (but not fanatical) dedication to your bones, muscles, organs, and cardio-vascular system. If you didn't have to worry about working, that would be easy and fun! Can you imagine ending that year feeling ten years younger than when you started?
However, when it comes right down to it, there is one big thing that is really slowing me down in life — one 800-pound gorilla on my back that impedes my progress even more than my career woes and my emerging corpulence. That is my apparent inability to learn a manageable amount of conversational French.
It's insane, really. I've been living in Montreal since 1987, yet about all I can manage is "restaurant French." No, that's not entirely true — I'm pretty good at short declarative sentences. La soupe est trop chaud! Mon doigt n'est pas mauve! Il y a cinq lapins sur la rue! Unfortunately, Hemingway novels are the only places where I find conversations made up of short declarative sentences, and those are all in English.
If I could get a handle on that, it would change everything. OK, not everything, but a lot. You might argue that all I need to do is to practice more, or watch some French television, but I've tried that with only limited success.
I'm just not good at learning languages. Ditto mathematical formulas — they make sense when you explain them but two minutes later it's all vapour. One of the problems is that I'm a very visual learner, and there are not a lot of visuals involved in stammering your way through butchered French and having the other person always switch to English because it is easier for everyone.
Therefore, if I had a year to dedicate to one thing, it would be to finally learn conversational French. That would involve a few immersion sessions in places far away from anglos (Gaspésie? Provence? Côte d'Azur?) and a lot of study and practice, but if I didn't have to work I think I could do it, and I think it would be successful.
Note to self: Is this a cop-out? Am I just using this "I need a year" thing to avoid knuckling down and doing the hard work it takes to do what I need to do? Must think about this more…